Muscle Memory & Why The Swing Trainer Just Works
The Super Swing Trainer Works to Improve your Golf Swing in 2 Ways:
First, the Swing Trainer works on the science of muscle memory. By standing inside the swing trainer, you are forced to be on the proper swing plane, and line up correctly to address the ball. Every aspect of your swing will be felt so your muscles, which in turn will develop the proper memory to have a more consistent swing, thereby increasing your accuracy and distance. Allow the Swing trainer, backed by the science of muscle memory, help you to become the golfer you have always pictured yourself to be.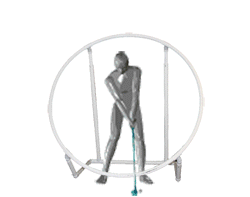 ​Second, the swing trainer is the only full circle golf swing plane trainer that comes with our exclusive exercise cords, enabling you to strengthen your golf muscles, as well as straighten your golf swing all at the same time. The surgical rubber bands on each side of the golf swing trainer are designed to create counter pressure and to build and strengthen your golf muscles, resulting in a more powerful golf swing with more "feel". The straps make this the first exercise equipment designed specifically for golf. The instructional videos, and written manuals, will walk you through 7 exercises designed to strengthening your golf muscles, and let you actually feel exactly how a proper golf swing should be. With the Super Swing Trainer there is no need for costly lessons -- the Super Swing Trainer will improve your game in 30 days. Guaranteed.
See 7 exercises below designed to strengthen your muscle you use to golf, and improve your muscle memory and your swing strength.
To read more about the exercise program click here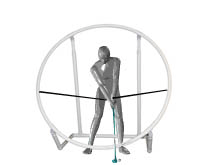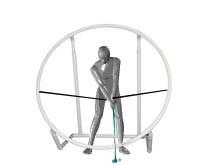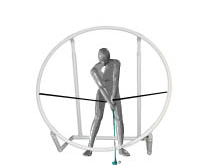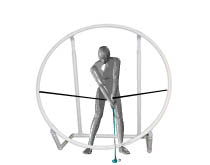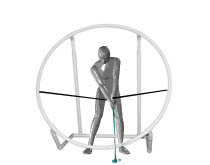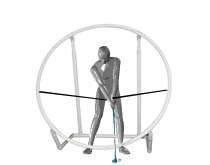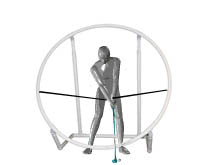 Helps develop a proper swing path through muscle memory and proper repetition.
The Super Swing Trainer has an adjustable swing plane for every club in your bag. This is done following the guideline we give you for your height and the club you want to practice with and then fine tuning to fit you perfectly. You simpley adjusting the 2 upper and 2 lower extentions by removing the pins and moving them up or down to the reccomended hole then replace the pins.
C
an adjust to over 70 positions.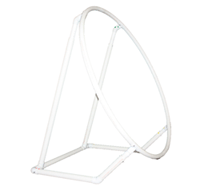 Check out some of the models here.
Check out some of the videos here:
​